BenQ W500 projector
There's more to image quality than a massive pixel-count
Review An entry-level 720p projector will give you a huge display that's great for gaming and TV. BenQ's W500 sits just above that price point and delivers some improvements in image quality.
With all the hype surrounding Full HD you may scoff at 720p, but there's a lot more to image quality than a massive pixel-count and the W500 incorporates a lot of clever technology to ensure your picture looks great, be it from a high definition or standard definition source.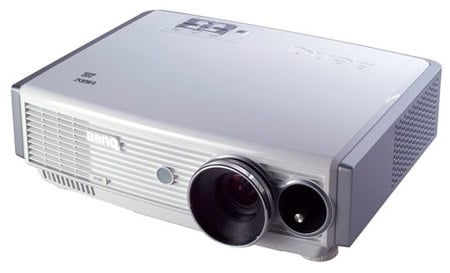 BenQ W500: designed more to blend in than to stand out
BenQ's product photos don't really do this projector justice. Yes it's just a white box, but it's a very smooth and shiny white box – with silver bits. OK, it may not have the same kind of space-age looks we've seen in similar models from Samsung or InFocus, but this W500 is designed more to blend in than to stand out. What's more, being white it'll be lot less conspicuous should you decide to mount it on the ceiling.
At 349 x 120 x 277mm it's a little larger than the smallest 720p projectors. While it may be considerably larger than Optoma's tiny HD65, it's much smaller than a 1080p projector, so finding somewhere to put it really shouldn't be a problem. Because the main air vent is at the front of the device, you can mount it safely on a shelf where's there's not much space at the rear.
Horizontal and vertical digital keystone adjustments are available via the on-screen menu, but one of the most useful features of the W500 is its omni-directional lens-shift: Getting your picture lined up squarely on your screen can test the patience of the best of us, but a small joystick on the front of the projector lets you move the whole protected image around quickly and easily without the distortion introduced by digital adjustments.
Sponsored: Practical tips for Office 365 tenant-to-tenant migration