PS3 and Xbox to get Wii-style Nunchuck
Developer creates motion sensing unit for proper consoles
A recently acquired gaming firm has unveiled plans to launch a motion-sensing controller that's compatible with the Xbox 360 and PlayStation 3.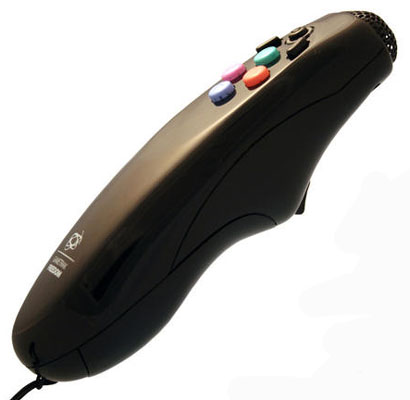 In2Games' Gametrak Freedom controller
In2Games today unveiled Gametrak Freedom, a handheld "ultrasonic 3D motion sensing" controller that enables gamers to play motion-capture games on either console. The controller looks like the Wii's Nunchuck, but sports four PS3-style buttons and what looks like a microphone cover on the tip.
The system comprises a base unit, which attaches to either console through a spare USB port, and the Gametrak Freedom controller itself. The base unit's comprised of two sensor bars, which can either be attached to the TV or mounted on included stands.
Gametrak Freedom communicates with the base unit through unmentioned "ultrasonic and RF technologies", tracking the gamer's movements with a three-axis accelerometer.
Squeeballs, a bizarre game akin to Wii Sports, is the only title to have announced as compatible with the controller so far.
The Gametrak Freedom controller is expected to launch at some point next year.