Seagate tries again with external drives
New look FreeAgents
Seagate has updated its FreeAgent line of consumer external hard drives with new, fetchingly encased and higher capacity models. The current line gets FreeAgent Classic branding.
Last year's FreeAgent desktop and portable external drives came in somewhat garish dark brown cases with sodium lighting orange highlights. They also had Ceedo quasi-PC desktop software so you could take your desktop environment with you on the road. Read a Register Hardware review of the FreeAgent Go here.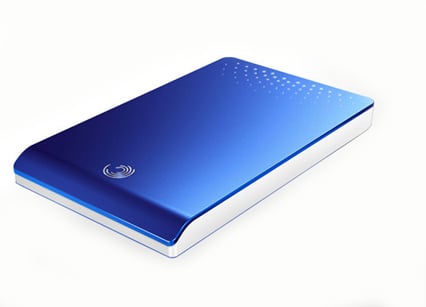 New: blue-topped FreeAgent Go drive.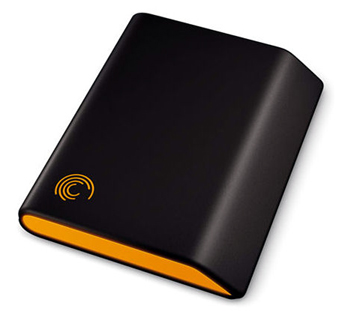 Old: brown and orange FreeAgent Go drive.
The new models are thinner and have brushed aluminum enclosures with scattered blue needle-hole lighting to indicate activity. Portable FreeAgent Go drives can have silver, black, royal blue or deep red upper surfaces, and now hold up to 500GB on their 2.5in, 5400rpm drives. You can also have a little dock for your main computer with permanently connected USB and power connections.
The desktop models do without the colourful tops, being either silver or black. Like caravan colours not conflicting with the colour of the vehicle towing them, they now complement your PC and don't provide a garish counterpoint.
FreeAgent Desktops go up to 1.5TB on their 3.5in, 7200rpm drives and connect using USB 2.0. The fancier FreeAgent XTreme model adds faster eSATA (3GB/s) and FireWire 800 connectivity.
There are specific FreeAgents for the Mac, both Go and Desktop models, which are HFS+ formatted, Time Machine-ready, and have both USB and FireWire connectivity. They do without the Windows-based automatic, schedulable backup software plus multi-computer syncrhonisation software that comes with the Windows FreeAgents.
If you want a shared external drive with an Ethernet connection then Seagate will sell you a Maxtor Central Axis model: Maxtor external drives being punted to techies and geeks; FreeAgents to consumers who appreciate a better-looking product. Ceedo software appears to be no more - Seagate has been asked to confirm this being unable to do so immediately.
The drives have a sleep mode and are made from 100 per cent recyclable materials, Seagate claimed. There is no RAID-protected version of the FreeAgent line.
Western Digital competes in this external drive area with its My Book and multi-hued My Passport products. It has just announced a 500GB My Passport model. WD also offers a RAID-protected Mirror Edition My Book. Drobo competes with its data storage robot, and Iomega and La Cie also have relevant products.
Availability and prices
FreeAgent Go Drive for Mac - $160 for 250GB and $190 for 320GB.
FreeAgent Desk Drive for Mac - $170 for 500GB, $270 for 1TB and $349.99 for 1.5TB (available in October 2008).
FreeAgent Go Drive -$120 for 250GB, $150 for 320GB and $340 for 500GB.
FreeAgent Dock and Case - $30.
FreeAgent Desk Drive - $130 for 500GB, $150 for 640GB, $230 for 1TB and $280 for 1.5TB (available in October 2008).
FreeAgent XTreme Drive - $159.99 for 500GB, $179.99 for 640GB, $259.99 for 1TB and $299.99 for 1.5TB (available in October 2008.
Storage Reviews
DroboShare network storage 'robot'
Intel X-25M solid-state drive
WD VelociRaptor 300GB HDD vs SSD