Sapphire 4850 Toxic graphics card
Solving the regular Radeon's heat problems
Review Sapphire's HD 4850 Toxic graphics card tackles a perceived problem of the reference AMD ATI Radeon HD 485 by changing the cooling package to lower the temperature.
The standard HD 4850 runs at a toasty 80-90°C as a result of having 800 unified shaders humming away inside the GPU. AMD uses a variable-speed fan that spins up to speed as the graphics load rises, a strategy which successfully maintains a constant temperature.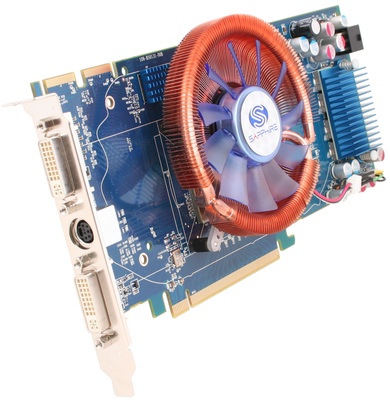 Sapphire's 4850 Toxic: dispersing the regulation 4850's heat issues?
However, you can distinctly hear the fan working away during a gaming session. It's not loud enough to cause concern but the high GPU temperature seems wrong, despite this being a deliberate design decision on the part of AMD. The HD 4850 chip has a high power draw and despite its high efficiency there's plenty of heat to be dispersed. The £125 HD 4850 uses a single-slot design that radiates waste heat inside the PC case, or you can choose a £175 HD 4870 which is a big, dual-slot card that exhausts through a slotted bracket to the outside world.
Under load, the HD 4850 operates in the high 80s Celsius while the HD 4870 is in the low 80s. While neither card will suffer stability problems, the thought of all that heat may cause you some concern and it also reduces the cards' potential for overclocking.
The Sapphire Toxic takes a surprisingly direct approach to this issue, as it's off with the standard cooler and on with a Zalman VF900 unit that includes passive coolers for the board's eight memory chips.
If you fancy a bit of DIY, you can buy the Zalman for £24, which bumps up the cost of a stock HD 4850 from £125 to £149. You'd be invalidating your warranty, so it probably makes sense to pay Sapphire £153 for the Toxic.