Brits are Europe's biggest gadget buyers - official
UK second only to US
Brits spent so much of their cash on electronics last year that the total amount of discretionary income splurged on technology in the UK ranked worldwide second only to the US.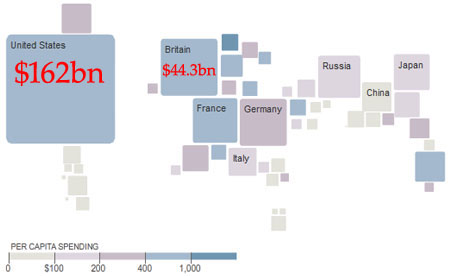 The UK loves its gadgets
According to figures released by market watcher Euromonitor, the UK's gadget-obsessed masses spent $44.3bn (£24bn/€31bn) on electronics products in 2007. Unsurprisingly, US consumers' spending was a much larger, totaling $162bn (£81bn/€105bn).
It's worth noting that despite the noticeable financial gap between the US and the UK, there's also a sizeable gap between the UK and the rest of the world.
For example, Germany comes in third place with a total spend on electronics of $30bn (£15bn/€22bn) during the same 12 months. France and Russia took fourth and fifth positions, with purchases of electronic goodies totalling $27.1bn and $24.5bn, respectively.
Japan's tech-obsessed residents only spent $17.7bn (£10.1bn/€12.7bn) on electronics, but did splash out $275.8bn (£137bn/€190bn) on simply having fun.
Euromonitor's figures don't give any insight into which gadgets each country's consumers favoured, such as TVs in Taiwan or DVD players in Denmark. But it's worth noting that the electronics sales figures don't include mobile phone sales.
Finally, it's good to know there's one category of goods on which the British spent more than electronics: good old fags and booze, on which we spent a mighty $60bn (£34bn/€43bn) of our discretionary income last year. Hic!