MS pumps up Zune storage ahead of iPod revamp
'We make MP3 players to... er... hello? Anyone there?'
As everyone eagerly awaits news from Apple's forthcoming "Let's Rock" iPod event, Microsoft has snuck in ahead with two new Zune capacities - reminding the world that it too sells MP3 players.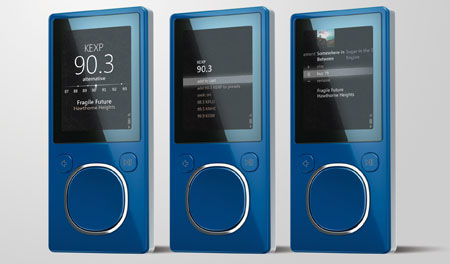 Microsoft's Zune: now in 120GB and 16GB options
Microsoft has officially launched a 120GB capacity hard drive-based Zune, alongside a comparatively petite 16GB capacity Flash-based model. Both players retain the established iPod Nano-esque look and feel, but come in either a "blue-on-silver" or "all-black" design.
The duo will be available, only in the US of course, from next week. The 120GB model will cost $250 (£140/€175), whilst the smaller capacity player is set to sell for $200 (£110/€140).
Microsoft's also updated the Zune's software, with a version entitled simply "Zune 3.0". The modernised software allows punters to buy songs from FM radio stations over Wi-Fi, though a feature called "Buy from FM".
A channels section also sees downloadable music divided into browsing categories. For example, there's a Billboard Top 100 and one dedicated to workouts. Some free games have been added too, including Texas Hold 'Em.
Around the same time that the two new players launch, US punters will also benefit from a price cut on older Zune models. The existing 80GB and 4GB players are set to cost $230 (£130/€160) and $130 (£70/€90), respectively.