Creative Zen Mozaic MP3 player
Tough, capacious and affordable
Review First announced back in July, the Mozaic settles nicely into Creative's MP3 player range sitting between the Zen Stone Plus and the Zen proper.
Fashioned from slightly cheap-feeling, but nevertheless extremely scratch resistant, black plastic, the Mozaic measures up at 80 x 40 x 13mm and weighs around 40g. It's available in 2, 4, 8 and 16GB flavours, and lacks anything in the way of a memory expansion slot.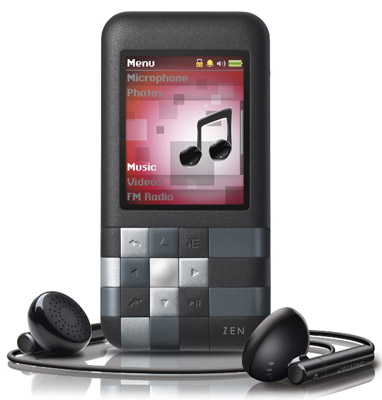 Creative's Zen Mozaic: for lovers of Byzantine art
The base specification is pretty much what we've come to expect from Creative. You get an FM radio with 32 station pre-sets - no RDS, though - a small built-in speaker; alarm clock; calendar; to-do list; and contacts database. The Mozaic also has a built-in microphone so it can double up as a basic voice recorder, saving up to ten hours of your thoughts and storing these as WAV files.
Aesthetically, the front of the device is dominated by a 1.8in, 128 x 160, 65,000-colour OLED screen below which - and slightly offset to the left - is a 3 x 3 grid of buttons for navigation. The controls are all in a slightly different shade of the device's base colour, hence the name.
The on/off/lock switch resides on the upper right side of the device - at the bottom you'll find a 3.5mm headphones socket and a mini-USB port. The nicely rounded contours of the player make it a good bet for stuffing into a pocket or handbag without ending up with any unwanted entanglements or snags.