Big and bendy e-ink displays on way
Plastic Logic to get one over Sony and Amazon?
Plastic Logic will be ready to ship its long awaited portable and flexible e-ink display early next year, the firm has announced.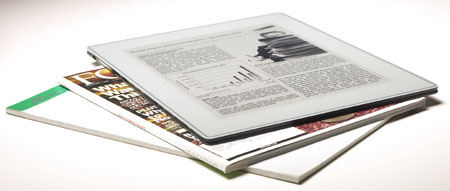 Plastic Logic's screen is thin - and flexible
First seen in 2006, the screen is based on E Ink technology - much like Sony's Reader or Amazon's Kindle – and measures 8.5 x 11in.
A spokesman for Plastic Logic said that its display is much larger than rival e-ink panels and doesn't use glass on the display - allowing it to be flexed.
The company demo'd the technology this week in the form of a large e-book reader. Plastic Logic said that the unit has an "easy gesture-based user interface" and software for organising the thousands of documents that can be stored on it. The gadget's compatible with Office files and PDFs.
The Plastic Logic reader is scheduled to ship in the first half of 2009, but a price hasn't been set yet. Later this month, Plastic Logic will open a plant in Dresden, Germany to manufacture its bendy displays.