Apple revamps iPod line-up
Shakes Nano particularly
Yes, it's iPod update time, with new Nanos and Touches, and tweaked Shuffles and Classics all announced by Apple this evening.
Touch first. The iPhone-alike player finally gets physical volume controls on its side - now a mere 8.5mm thick. Like the iPhone 3G, the new Touch is not only slimmer but sports a curvier, shiny metal back and a speaker.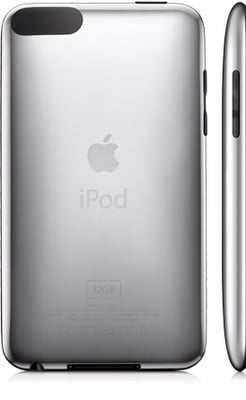 Apple's 2G iPod Touch: steely
Apple claimed the new model offers a day-and-a-half's music playback - 36 hours - and six hours showing videos.
But as before, the capacities on offer are 8GB, 16GB and 32GB.

Apple's iPod Shuffle: new colours
Ditto the Shuffle, which is still offered in 1GB and 2GB versions, this time with a change of colours - Apple is favouring bolder, brighter hues this year.

Apple's 4G Nano: new old design
The same goes for the revamped Nano, now back in an upright, less squat form, as the various leaks and case-shots of the last week or so showed.
The 90.7 x 38.7 x 6.2mm, 36.8g unit features a 2in, 240 x 320, 204ppi screen and a choice of 8GB or 16GB storage capacity.
Apple said the new Nano offers 24 hours' music playback or four hours of video.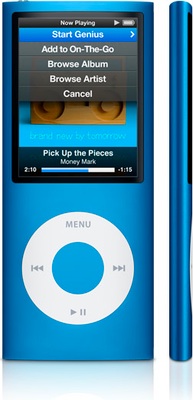 Genius on-board DJ
One neat touch: the Nano will read out menus, song titles and so on, allowing you to navigate the player's options and contents without having to peer at the screen. The screenless Shuffe could do with that too.
Shake the Nano and it'll go into shuffle mode, rather like Sony Ericsson's latest Walkman phones do. Tilt it sideways, and the screen automatically rotates into landscape mode, just like the Touch does.
It'll even choose songs for you, matching songs by type, tempo and the like, and dropping them automatically into a special playlist. The Touch has this iTunes 8-based "Genius" feature too.
The Classic remains a black-and-white offering, but it now comes with a 120GB hard drive.
The 8GB Nanos will retail for $149/£109 and the 16GB versions for $199/£149 . Each model is offered in the same selection of nine rainbow colours. The 1GB and 2GB Shuffles are only available in five colours and cost $49/£32 and $69/£45, respectively.
The Classic costs $249/£179 while the three capacities of Touch are priced at $229/£169, $299/£219 and $399/£289
Sponsored: Practical tips for Office 365 tenant-to-tenant migration