Locksmith chains up iPod
Lock your player to a table
With a new iPod design rumoured to be ready for launch tomorrow, keeping any player safe will now be forefront in your mind. Thankfully, a firm's designed a bike-lock like chain system.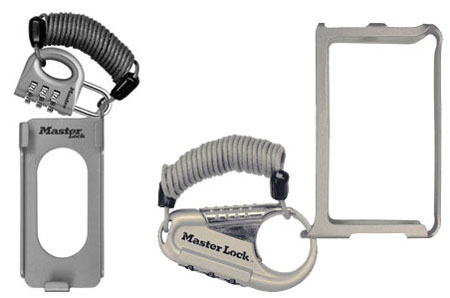 MasterLock's iCage: iPod security locked down
MasterLock's iCage security system is based around a skin into which you slot your player, but which also has an extendible security cord attached to it.
Simply wrap the cord around something sturdy and then set a three-digit combination on the integrated padlock, thus preventing anyone from walking off with your precious iPod.
You won't be able to tie the player up outside, of course, but the idea could be handy if you work in a particularly unsafe office. When it's locked-up, all of your player's ports are still accessible.
MasterLock's iCage will be available online later this month, with cases available for the 4GB and 8GB iPod Nano. Locking cases for the 30GB, 60GB, 80GB and 160GB iPod classic are also available. Prices start at $14 (£6/€10).
Sponsored: Beyond the Data Frontier