Intel releases laptop, desktop SSDs
Still not cheap
Intel has started shipping its 1.8in and 2.5in 80GB solid-state drives. The chip giant also reiterated its plan to release 160GB versions by the end of the year.
The X18-M and X25-M drives use multi-level cell (MLC) technology, generally held to be slower than drives based on single-level cell designs. Intel promised it will intro SLC SSDs within the next three months, aiming them - and no doubt pricing them - at servers.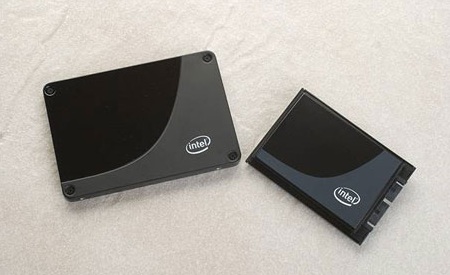 Intel's X-25M and X-18M: fast but pricey
The drives shipping today will be pitched at desktops and laptops, and they're pricey enough: $595 when purchased in batches of 1000 units.
The SATA drives deliver sustained read speeds of up to 250MB/s, Intel claimed, and sustained write speeds of up to 70MB/s.
"By combining our experience in flash memory design with our processor and computing expertise, we have added advances such as our parallel ten-channel architecture, proprietary controller, firmware and memory management algorithms that address write amplification and wear leveling issues to redefine SSD performance and reliability for computing platforms," said Randy Wilhelm, the head of Intel's NAND Flash division.
Related Review
WD VelociRaptor 300GB HDD vs SSD