Creative Zen X-Fi 16GB media player
Burdened with a fair amount of frankly pointless functionality
The 2.5in, 320 x 240, 16.7m colour screen is largely the same as that found in the Zen. Allied to sensible background, text colours and sizes, and simple stylised graphics and icons it makes for a clear and easily read UI environment even in direct sunlight.
File support is resolutely middle of the road: MP3, WMA, AAC (unprotected), WAV and Audible for audio; JPEG for still images; and WMV, MPEG 4, DivX and XviD for video. Video formats have to be encoded to 320 x 240 and 30f/s or less to play, but the bundled Creative Centrale software suite makes a steady if slow job of transformatting – re-sizing a 660 x 272 .avi file of Star Wars: Episode III took a shade over an hour and ten minutes.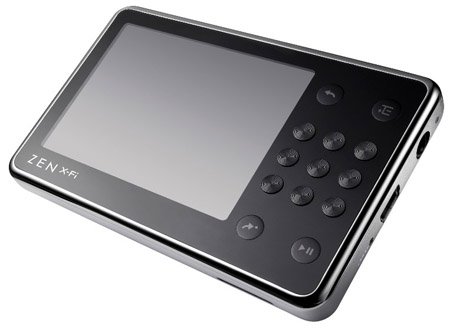 The 2.5in, 16.7m colour screen is much the same as that found in the Zen
Loading up content is straightforward for Windows users who can sync via any MTP media player app, the bundled Creative software or with drag and drop. Life is less easy for Mac and Linux users – our X-Fi refused point blank to show up as an MSC device on either nor could we find any way to set it manually to such. With the right hacks and libraries a workaround is doubtless possible, but that's not the point.
On the positive side, once loaded with media the X-Fi had no problems reading ID3 tags correctly or picking up album artwork.
Sound-wise the X-Fi is not at all bad though this is as much down to Creative bundling a more than decent set of earphones as anything else. The in-ear EP-830 'phones are not only very comfortable – and come with three sizes of rubber bud - but they also produce an excellent sound that is both well balanced and tightly focused.