Creative Zen X-Fi 16GB media player
Burdened with a fair amount of frankly pointless functionality
Review When details of the Creative Zen X-Fi PMP began to leak out, many thought it would replace the Zen Vision W. As soon as you get the X-Fi out of the box you realise this is not the case.
The Vision W had a 4.3in screen, but the X-Fi makes do with a mere 2.5in panel. So what we have here is an MP3 player with ideas above its station, not a fully fledged PMP.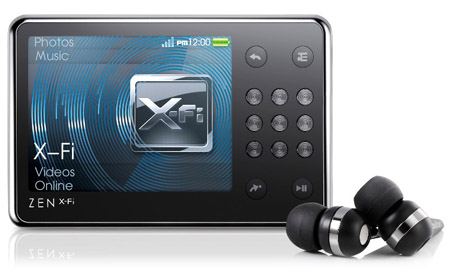 Creative's Zen X-Fi: loaded to the gunwales with gizmos
Creative seems to have decided that what we all want in a flagship product is a small-screen device loaded to the gunwales with gizmos, including Wi-Fi, instant messaging, a loudspeaker, an FM radio with 32 pre-sets though without RDS, a voice recorder, a calender, a to-do list and a contacts book. Phew. Of course, some would argue that many if not all those functions are largely unnecessary on a device whose main role is to play music and video.
Despite the function bloat, the X-Fi is still a small device, weighing in at 70g and measuring up at 55 x 83 x 12.5mm. It's pretty well made too, looking and feeling like a fairly high quality product. All the buttons work with a pleasant click, and SD cards slide in and out of their slot smoothly. They're flush with the casing when in place.
The exterior controls of the X-Fi are a little unusual with no less than 13 buttons on the front. The cardinal buttons of that 3 x 3 grid perform the same functions as the navpad on the Zen - previous/next track, volume up/down, skip forward/back etc - while the central button acts as an action key. That doesn't tell you what the buttons at the four corners are for - they come into play when you fire up the IM application, but more on that below.