Finnish blogger amputates Google from Google
A road map for regulators of the future
Getting a head start on the world's antitrust regulators, an astute Finn is offering a bastardized version of Google's search engine that ignores sites served up by Google itself.
Inspired by a recent New York Times piece that questioned whether the Mountain View search monopoly is morphing into a media company - which it is - Finnish blogger Timo Paloheimo promptly unveiled Google minus Google. Key in the word "YouTube," and the first result is Wikipedia.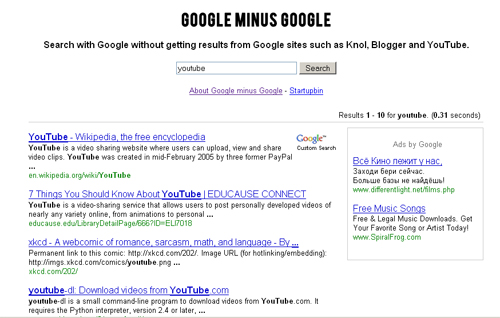 Google minus Google
Built with the Google Custom Search Engine, Google minus Google conveniently filters out domains such as YouTube, Blogger, Gmail, Knol, Orkut, and - most importantly - Jaiku. In other words, it removes Google's conflict of interest. Or at least some of it.
In a statement tossed our way, Google seemed to greet Google minus Google with open arms. "For years, users have been able to customize their experience via the advanced search feature within web search," a company spokeswoman said, "and we welcome all efforts that help deliver useful information and expand user choice."
But it's worth noting that since its launch, Google minus Google has changed its logo. It used to look like this: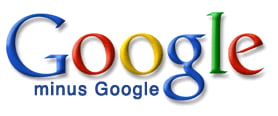 Former Google minus Google logo
We've asked Timo if Google, um, requested the change. But he has yet to respond. In any event, we applaud his new search engine. Now all we need is Google minus Wikipedia. ®
Update
The Mountain View outfit did indeed request that logo change. "Google did ask in a polite - really - email that I stop using their logo,' Timo tells us. "The ads on the Google minus Google are tied to my AdSense account and the usage of their logo was against the AdSense terms of service."
Sponsored: Detecting cyber attacks as a small to medium business