Qinetiq trumpets midsummer robo solar-plane 'record'
Now let's see it work at winter solstice
Controversial warboffinry spinoff firm Qinetiq claimed a new world record over the weekend, saying that its "Zephyr" unmanned solar-powered plane had made a 3-day flight earlier this summer. However, the test took place in uniquely favourable circumstances.
The Zephyr, a large lightweight electrically-powered aircraft, generates power using its solar cells during the day. As well as driving the plane the cells also charge up li-ion batteries for use at night, offering the possibility of very long flights. According to Qinetiq, Zephyrs of the future might be able to carry and power a useful military payload.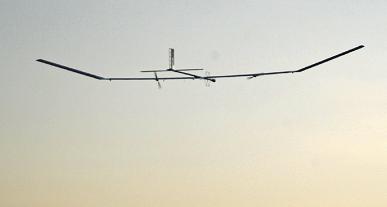 Works well at midsummer, anyway
The longest Zephyr flight thus far, lasting 82 hours 37 minutes, took place from 28 to 31 July above the Yuma Proving Ground in Arizona's Sonoran Desert. It won't count as an official record, however, as the relevant international monitors weren't involved in the tests.
According to Simon Bennett, Qinetiq bigshot:
"In addition to setting a new unofficial record, the trial is a step towards the delivery of Zephyr's capability for joint, real-time, battlefield persistent surveillance and communications to forces in the field at the earliest opportunity."
The Zephyr trials are being jointly funded by the UK defence ministry and various US military bodies, with a view to developing unmanned planes which could hang above battlefields or other places of interest constantly - rather than zooming briefly across the sky like satellites or needing frequent refuellings like normal spycraft. The sun-birds might act as communications relays, or perhaps - if larger weights and consistent power outputs became feasible - as spy-eye platforms.
Qinetiq says that the July flight included "military utility assessment of a US Government communications payload", and that altitudes of 60,000 feet were reached. The company is characterising the Zephyr programme as something which could be ready for combat deployment quite soon, as opposed to more ambitious, larger-scale and longer-term crewless solar stratocruiser efforts like Project Vulture.
The Zephyr is plainly an impressive piece of kit, but one does note that its unofficially record-breaking flight took place in just about the best possible conditions for a solar powered plane. That is, shortly after the northern-hemisphere summer solstice, just 32 degrees north of the equator - with the track of the sun therefore passing as close to directly overhead as ever happens above US territory.
All the rest of the year, one would expect solar cells to yield significantly less juice - perhaps imperilling its ability to stay up through the night, let alone power an electronics payload round the clock. You would also lose power when operating further north than Yuma, as in the northern parts of both Afghanistan and Iraq. You would forfeit juice, too, at lower altitudes - as when doing many kinds of surveillance, for example.
All in all, one would expect a potentially useful sun-plane to show a lot of spare capacity during July's Yuma test, as it would normally be flying in much less favourable conditions. If the Zephyr showed such a surplus this summer, well and good - Qinetiq hasn't given any details. If it didn't, though, one would have to be unimpressed. A spy satellite passes over a given spot just twice a day, but a solar spyplane which can only operate above that spot for a small part of the year would be even less useful. ®