Medion punts £599 Blu-ray PC
Want a Blu-ray quad-core PC on the cheap? Tesco is selling Medion's Akoya P36888 for a mere pound under 600 quid.
£599 gets you a big shiny black box containg a 2.4GHz Core 2 Quad Q6660, 3GB of memory, 1TB of hard drive storage, an Nvidia GeForce 9300 GS graphics card and of course said Blu-ray Disc drive.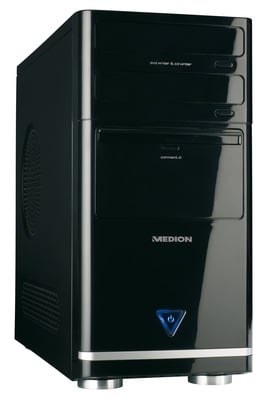 Medion's Akoya P36888: a snip?
It also packs in eight-channel sound and a dual-tuner analogue/digital TV tuner.
Comes with Vista and the usual bundle of trialware and disc burning tools - the drive's a DVD writer too.
The Medion Akoya P36888 is available in Tesco Extra and Tesco Homeplus stores, and from the grocer's website.