iPhone 2.0.2 crack posted then pulled
Update promised
Hours after the latest version of the iPhone Dev Team's PwnageTool iPhone cracking utility hit the servers, the group appears to have pulled the app.
However, it promised the app will return later today.
PwnageTool 2.0.3 was announced late last night. This morning, attempts to grab it using PwnageTool 2.0.2's on-board update facility proved unfruitful, and a number of download links to the iPhone Dev Team server posted on a variety of websites only yielded 404 errors.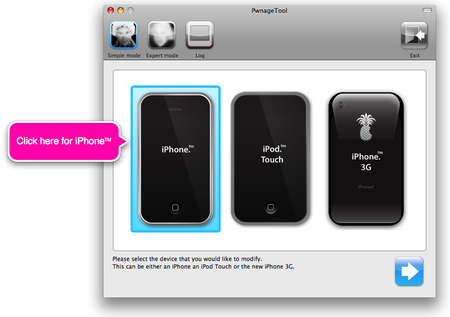 PwnageTool: new update 'coming today'
The new release was eagerly awaited by many iPhone fans looking to update their handsets to the latest firmware, version 2.0.2, and - in the case of the original iPhone - unlock them for use with carriers not sanctioned by Apple. The iPhone 3G remains unlockable by this method.
This morning, the iPhone Dev Team warned that the PwnageTool 2.0.3 doesn't work too well with the iPod Touch. "In certain conditions, incorrect permissions will be used and the keychain doesn't save passwords."
It told owners of that device to "wait for the next release, we'll push out the updated version... as soon as it is tested".
It's not clear whether the same issue affects iPhone owners, or the Dev Team is just playing it safe and keeping the app away from everyone for now.
In response to a forum poster asking about auto-update errors, the Dev Team said: "Yes, we hope to release an update sometime today."