Advent 4211 mini notebook
Dixons tempts with cut-price Wind
A larger screen means a bigger chassis, and the 4211 takes advantage of this to offer a bigger keyboard than even the AA1 and to locate the touchpad buttons in the right place - below the pad, not either side of it. For us, that makes using the 4211 without a mouse a goer, something we wouldn't care to do with the AA1 or the original Eee.
That said, while our review unit came equipped with a Synaptics touchpad, many shipping units use Sentelic pads. It's claimed that most of the demo models on show used the superior Synaptics pad.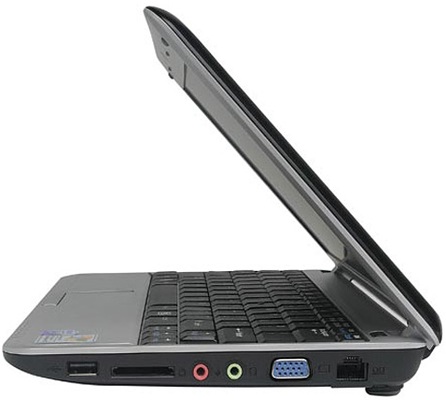 Standard SCC port array
This may be an issue if you want to install Linux - Sentelic pads aren't as common as Synaptics ones, so the driver support may not be as solid. On Windows, the new pad is said to be very sensitive, with movements often mis-read as a click. Tap-to-click can't be disabled. Some forum posters complain about the lack of a speed-scroll option too, but that's less of an issue, we feel, lack of features being less important than having features that work.
We asked DSG about this, and the company would only say that "there are no planned changes to the current model in the forseeable future". Alas, that doesn't tell us anything useful, so this is a true caveat emptor situation.
Our advice: ask to have the box opened and try before you buy. We're not saying there's a problem with the Sentelic pad, only that we haven't tried it and a fair few folk don't appear to like it. It may be fine for you, however.
The 4211's keyboard has a little flex, but it's reasonably solid and, because of it's size, good to type quickly on. It's way better than the smaller Eee keyboards in both size and feel, though there's not really that much to choose between it and the AA1's similarly Eee-beating keyboard.
Sponsored: Minds Mastering Machines - Call for papers now open