Anatomy of a malware scam
The evil genius of XP Antivirus 2008
At regular intervals you also get a strange corner popup, shown in Figure 17.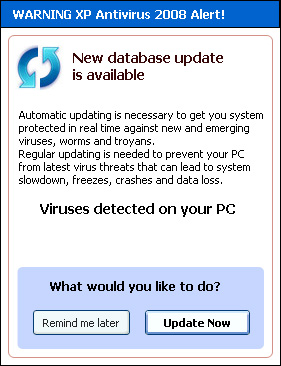 Figure 17 A corner popup
The corner popup also shows up in the region of the system tray but is just a window. It has an "Update Now" button that takes you to the purchase site. Once again, the malware is specifically designed to entice you to pay for it.
The application itself looks reasonably good. Figure 18 shows the main application window during a "scan."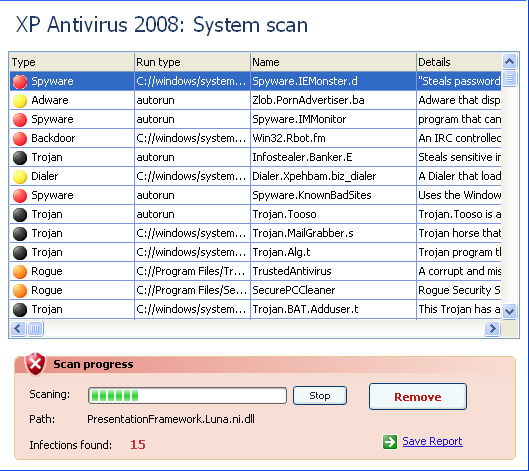 Figure 18 A scan of your system obviously finds many fake infections
If you compare Figure 18 to your average legitimate anti-malware suite you would probably be inclined to agree that this looks perfectly legitimate to most people. It finds bad stuff, which is good, and the bad stuff is sufficiently scary sounding to make me want to get it removed, even if it costs me $49.95, plus the File Shredder 2008 license. Just in case that was not enough to entice me to purchase the malware, however, we also have the system status screen in Figure 19, which is designed to frighten you into compliance. By now you can probably guess where the "Update Now" button goes. There are at least four buttons in Figure 19 that lead to the "send us your money now" website. One can only marvel at how much better the criminals are at separating you from your money than the legitimate anti-malware vendors.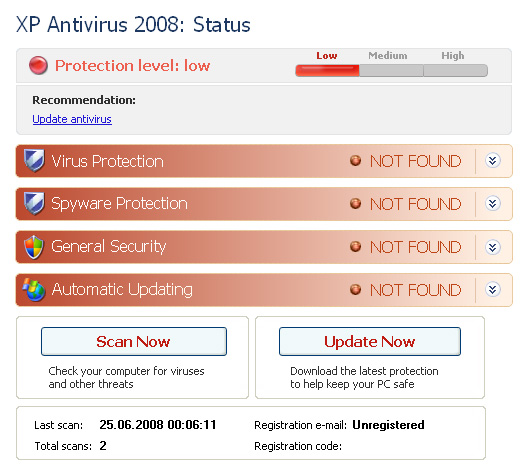 Figure 19 The System Status screen is designed to be scary
Interestingly, in my testing, the malware did not actually take any malicious action beyond what I have documented here. I did not detect any attempts at stealing data, at installing additional malware, or at remote control. This could be for several reasons. The purpose may just be to get some of your money, and maybe a credit card number. Alternatively, it may be that the software is time-triggered to make it harder to analyze. Most analysts do not have the luxury to let it run continuously for weeks whereas the bad guys can easily wait that long for the payout. Finally, the software may include detection logic to discover that it is running in a virtual machine, causing it to forego some of the malicious actions it otherwise would. Such logic is becoming more common in malware as it makes it far more difficult for researchers to analyze the software.
Detection by Legitimate Software
As a final experiment I decided to see if I could remove the malware, or at least detect it, with legitimate anti-malware software. At first I attempted with the recently updated Microsoft Malicious Software Removal Tool (from June 24, 2008, the most recent available at the time I wrote this). It failed to detect the software.
Fortunately, other anti-malware software did detect it. Figure 20 shows the warning from AVG Free when you attempt to open the Control Panel applet. AVG Free also threw a similar warning when I downloaded the installer.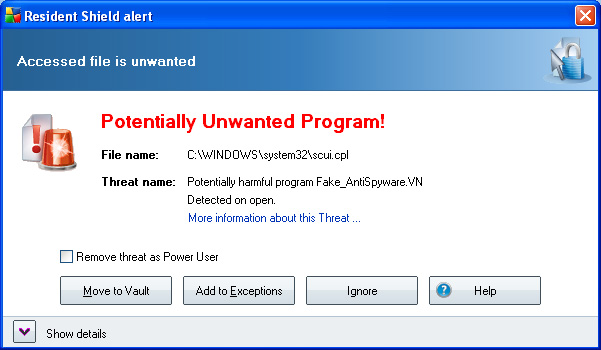 Figure 20 AVG Free detects the malware on open
AVG also detects the other vectors installed by the malware and very efficiently removes them for you, as shown in Figure 21. I did not test with any other anti-malware software. As the test results on Virus Total showed, the malware would probably be missed by at least some legitimate anti-malware software.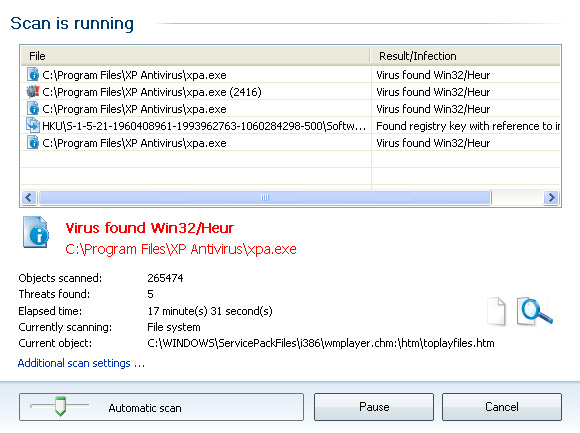 Figure 21 AVG Free removes the malware
Sponsored: What next after Netezza?