MS redesigns Xbox 360 controller key
Limited edition controller
Not to be outdone by Sony's PS3 controller enhancements, Microsoft has unveiled a redesigned Xbox 360 controller sporting an improved four-way control.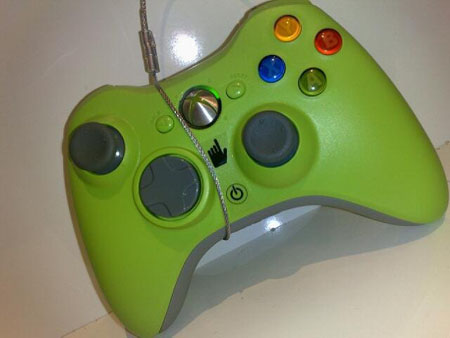 Microsoft's Xbox 360 controller: old look, new nav button
Image courtesy Eurogamer
Although technical details are still scarce, a report by Eurogamer said that the limited-edition green wireless controller's designed for games that make full use of the navpad, such as Pro Evolution Soccer.
A third-party publisher also told Eurogamer that the pad's designed to work with Street Fighter IV.
The controller was photographed at the ongoing Leipzig games developers convention, where a Microsoft spokesperson said it "offers enhancements to D-pad functionality, which will add to the experience of playing games where the D-pad is the primary control mechanism".
The controller will initially only be available in Europe, Asia and Latin America. Microsoft has yet to state the price.
Sponsored: Minds Mastering Machines - Call for papers now open