Archos revamps PMP line-up
"Internet media tablets" actually, darling!
Archos has unveiled three state-of-the-art portable media players so rich with features that it's branded the trio "internet media tablets".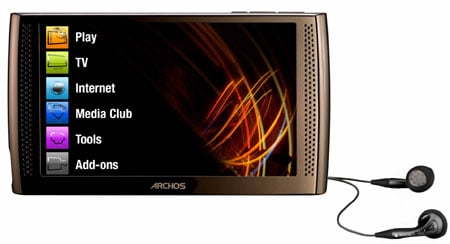 Archos' 7 has the largest screen
That means Archos is now offering its machines with the Opera browser, though you don't get it out of box - it's available only "upon registration".
Screen size is the main difference between the three models. The Archos 7 - so named because of its 7in, 800 x 480 touchscreen display - comes with either 160GB or 320GB of on-board hard drive storage.
The Archos 5 – can you guess the size of its display? - gives users the choice of 60GB, 120GB or 250GB of capacity. You guessed wrong: the screen's 4.8in. Its resolution is 800 x 480. The Archos 5g also has a 5in touchscreen, but is only available with a 30GB capacity.
All three models support Wi-Fi 802.11 b/g connectivity, but the 5g also allows you to slot in a SIM card and get online over an HSDPA 3G connection on your mobile network.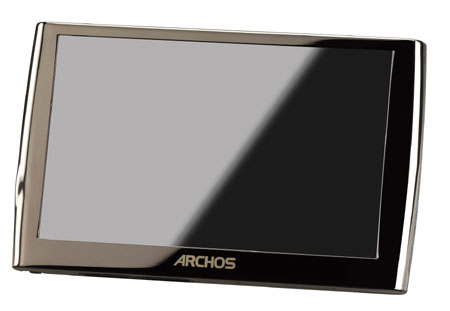 The 5G supports HSDPA connections
The trio play all manner of video formats, including WMV, Motion JPEG and H.264, in addition to MP3 and AAC audio. Still images, such as JPEG files, can be viewed too.
An optional dock allows you to hook the players into your home entertainment system to record audio and video. The players also feature a built-in electronic programme guide for browsing and scheduling recordings, alongside infrared controls for controlling your telly directly from the Archos unit.
Archos' 5, 5G and 7 will be available next month. The 60GB Archos 5 will cost $350 (€240/£190), while the 120GB and 250GB models will retail for $400 (€270/£215) and $450 (€300/£240), respectively. The Archos 5g will cost $550 (€430/£340). The 160GB Archos 7 is priced at $450 (€300/£240) and the 320GB capacity model at $550 (€430/£340).