Is Zune finally coming to Europe?
FCC documents leak 120GB model
Many European iPod haters have prayed for the Zune's arrival. Now US Federal Communications Commission documents have revealed that if it does land this side of the Pond, we could be in for a storage treat.
The US regulatory body's conducted a series of emissions tests on a 120GB Zune – the largest capacity model ever seen. Throughout the document, the player's referred to as the "Zune 120GB" and given the model number "1376".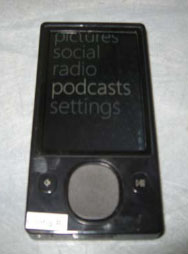 Microsoft's 120GB Zune: Europe bound?
A picture of the 120GB Zune appears in the FCC's documents and it looks identical to the existing 80GB black Zune, which was launched by Microsoft back in October.
The appearance of a 120GB Zune in Federal Communications Commission (FCC) documents isn't proof that the player will appear in the UK, because Microsoft's pushed back the player's European launch several times already.
In 2007, Microsoft CEO Steve Ballmer said the player would appear in Europe the following year, but then when 2008 rolled around it was reported that the firm decided to delay the player's launch until 2009.