Alienware Area-51 m15x gaming laptop
Out of this world - or the laptop that fell to Earth
In terms of graphics outputs, Alienware has gone for the stylish and simple approach of a single HDMI port, which is all well and good if you're hooking up to an HDTV, but most projectors and TFT displays use VGA or DVI so you need to buy yet another extra. This time it's an HDMI-to-DVI adapter that costs £13, and while you have your credit card out you might consider an adapter to convert the nine-pin Firewire 800 port to a regular six-pin Firewire 400, which will cost you another 13 quid.
If Alienware had simply stuffed the components into a mid-sized chassis, we would probably have been deeply unimpressed, but thankfully it has been considerably more imaginative that that.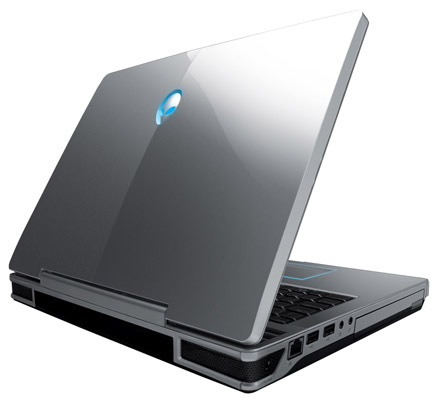 At 3.6kg, it's not as heavy as you might think
The overall impression is a large, solid laptop that looks like a slab of smooth silver plastic. Our sample had the Ripley option, which is to say that the lid is smooth, or you can have the ribbed Skullcap look. We're assuming this option is a [tenuous] link to the film Alien 3.
When you turn the laptop on by pressing the alien-head power button, a series of lights burst into life behind the keyboard, around the touchpad and behind the Alienware logo that sits below the screen. It's a similar set-up to the bling that we saw on the Alienware A-51 ALX CLX and once again you can use the AlienFX Editor utility to change the colour of the LEDs in the different zones. It may sound like a piece of unnecessary frivolity, but we rather like the effect.
Above the keyboard and next to the power button there are four illuminated buttons and a volume slider that pretty much sum up this laptop as they are quite clever, but unfortunately they don't work quite as well as we would hope.