Alienware Area-51 m15x gaming laptop
Out of this world - or the laptop that fell to Earth
Review Alienware claims that its Area-51 m15x gaming laptop is the "fastest 15.4in notebook ever". Not true if you opt for the basic m15x with Intel Core 2 Duo T8100 processor however.
You can get a comparable Sony Vaio BZ11 for £850, and it's safe to say that any time Sony is being used as a comparison, the value-for-money part of the equation is taking a back seat. So we'd suggest you shy away from the vanilla m15x.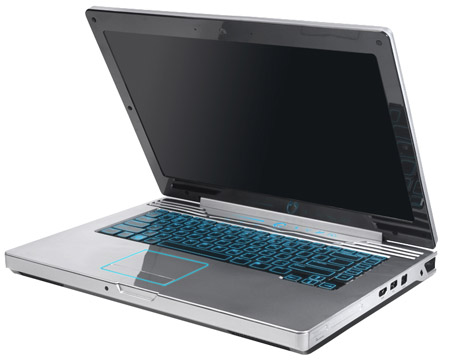 Alienware's Area-51 m15x: quite possibly the fastest laptop ever
Our review sample was packed with the fastest hardware that money can buy so we'd like to start this review by stating on the record that this is the fastest notebook we've ever seen, regardless of screen size.
The two key components are the 2.8GHz Core 2 Extreme X9000 mobile 'Penryn' processor and GeForce Go 8800M GTX graphics chip, both of which pack a punch and also bump the price up to stratospheric levels. We've previously seen the 8800M in the Rock Xtreme 770 and were extremely impressed: this GPU has epic gaming performance.
As you'd expect, the 8800M will suck the life out of your battery when they're working at full tilt during a game, but it's a different story when you're surfing the web or writing emails as the power saving features in 8800M are surprisingly effective.