Yes! It's the iPhone 3G telescope!
Zoom into better pictures
The iPhone 3G's camera zoom is, well, non-existent. So online retailer Brando has unveiled a telescope for star-gazing Apple fanatics.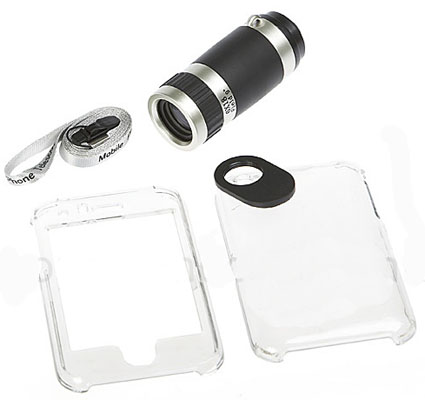 Brando's iPhone 3G telescope kit
Brando's kit comprises of a 6x magnification telescope that screws onto a specially designed hard case, which protects the front and back of your precious phone. The telescope screws into a compartment that's positioned over the iPhone's camera lens.

iPhone snaps without (left) and with the telescope
Adjusting the zoom is as simple as looking at the camera image on the iPhone's screen and adjusting the telescope as though it were a single binocular, until the image is in focus.
It's worth noting that Brando's already launched a magnification telescope for mobile phones, but it was released before the iPhone 3G's unveiling. The older model also boasted a 7x magnification.
Brando's Apple iPhone 3G Mobile Phone Telescope is available online now for $20 (€14/£10).