US PS3 sales fell 45% in July
Wii down too
July's US console sales figures are in, and the PS3 managed to come in ahead of the Xbox 360 despite a massive drop in sales. Both consoles were again mightily thrashed by Nintendo's Wii.
2008 US Console Sales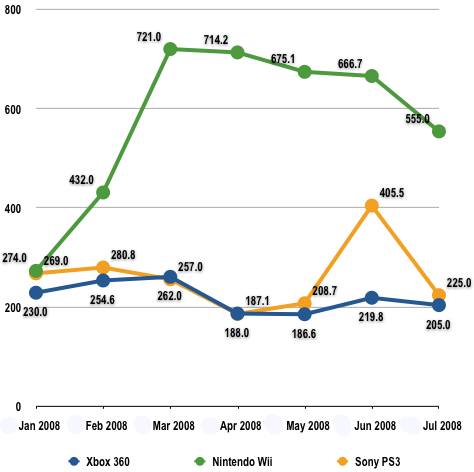 Source: NPD
According to market watcher NPD, Microsoft sold 205,000 Xbox 360s in July, down slightly on the 219,800 Microsoft consoles that crossed over counters in June.
That's as nothing, however, to the plunge in like-for-like PlayStation 3 sales. They fell from a year-high of 405,500 units in June to just 225,000 last month.
That's a 44.5 per cent decline - rather more than the 16.8 per cent month-on-month fall in Wii sales, which dropped to 555,000 units last month from 666,700 in June.
Sponsored: Becoming a Pragmatic Security Leader