Earlier this year, a crazed cable junkie released a walkthrough for transforming a sawn-off USB cable into a Flash drive. Now the inventor's idea has been turned into a money spinner.

The cable looks broken, but it stores 2GB of data
In April, self-styled mad scientist Windell Oskay published his walkthrough for creating a ripped USB cable that hides a Flash drive within the jack. But Register Hardware this week say a remarkably similar product for sale online at website Perpetual Kid.
Unsurprisingly, we thought that Oskay's unique storage device design had been pinched. However, we contacted Oskay and he told us that he's licensed the design out to US company Fred & Friends, whose product Perpetual Kid is selling.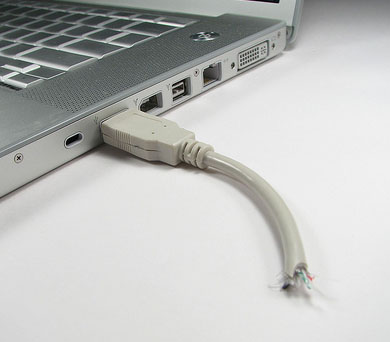 That damn dog...
So, if you're too lazy to follow the walkthrough, then the Hacked USB Flash Drive is Oskay's design – ready made.
The device has 2GB of storage hidden inside the jack, although the cable won't be much use for data transfers.
It'll be available online next month for $50 (€35/£25).
Sponsored: Webcast: Ransomware has gone nuclear