Asus goes official on extended Eee PC line-up
Competition engenders confused array of options
Undoubtedly feeling the pressure of competition, Asus has come clean on its ever expanding range of Eee PCs. And it's starting to get a little silly.
The range, according to Asus UK, now stretches to 12 models. In addition to the original 2G Surf, 4G Surf and 4G; spring's 900; and the more recent 901, 1000 and 1000H, we now see the 701SD, 900 16G, 900A, 904HD and 1000HD.
The original Eee was also known as the 701, so it's no surprise that the 701SD is essentially the same, 4GB SSD unit. The 'SD' suffix is warranted by a bundled 30GB external hard drive and 10GB of online storage.
The 900 16G likewise matches the 900, but this time both Windows XP and Linux versions have 16GB of solid-state storage to play with - the 900 offered 20GB with Linux and 12GB with XP.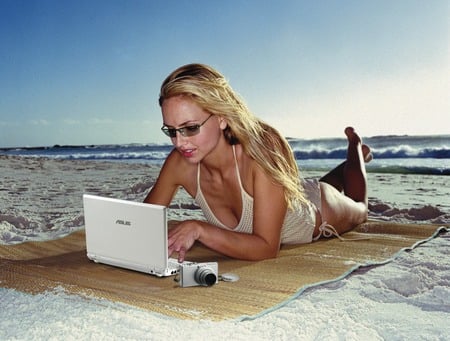 Asus Eee PC and friend: now empurpled
Both 900 and 900 16G use an Intel Celeron M 353 processor. Not so the 900A, which uses a 1.6GHz Atom N270 instead. It will be offered in 8GB and 16GB SSD forms - the existing Atom-based 901 has, like the 900, 12GB with XP or 20GB with Linux. The 900A will only be offered with Linux.
And it'll come in a purple casing.
All of the 900-something machines come with 1GB of RAM. The 904HD comes with 2GB if you opt for Linux; 1GB if you go for XP. It's a 900 with an 80GB hard drive instead of an SSD. Its casing design is that of the 901, even though it's innards are those of the 900.
So does the 1000HD. However, unlike the similarly 80GB HDD-equipped 1000H, this model is based on the aforementioned Celeron M 353 CPU, not the Atom N270. And it lacks the 802.11n Wi-Fi support provided by the 1000 and 1000H - it's 802.11b/g only.
Whereas the 1000H comes with 1GB of memory no matter what OS you prefer, the 1000HD comes with 1GB when you pick XP, and 2GB when you go for Linux.
Surely the extra memory would be more use to Windows users?
There's no word yet on the new models' prices - in the gaps between the others, presumably. What we can say is that Asus must be pretty worried if it feels the need to come out with such a confusing line of options.
Come on Asus, cut out the muddle. KISS, folks, KISS.
Sponsored: What next after Netezza?