Samsung Tocco SGH-F480 touchscreen phone
Who calls a phone Tocco, I mean really
Tap to get the main menu, and the phone screen changes with a rotating transition to show a typical grid of colourful icons. Most of these take you into sub-menu lists, which utilise fingertip-controlled touchscreen scrolling.
Scrolling is quicker if you drag your fingertip down the left-hand side of the screen rather than the right, though on either side you can flick through lists – albeit not with the effortless flicking motion of the iPhone. The action feels better than on previous Samsung touchscreens we've played with, and the smoother responsiveness and more refined interface means fewer frustrating accidental selections or menu mis-presses.
Option selection and making changes follow a quite straightforward, consistent pattern - though like most touch-operated phones, some familiarisation is required.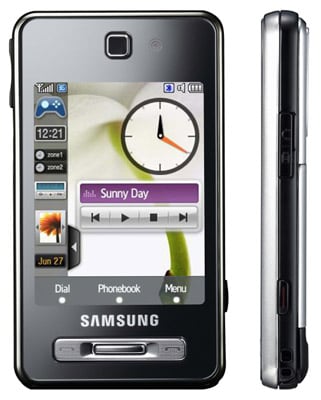 Samsung has again incorporated the touchscreen haptic feedback
When it comes to text input, the screen size limitations mean Samsung has ignored virtual Qwerty keyboard and handwriting options, sticking instead to a virtual phone-style alphanumeric numberpad. You can easily switch between predictive text and manual entry, and the buttons are spaced for accurate tapping.
After just a little practise we found letter selection fine, despite the limited screen space – although we couldn't type as quickly as we can with a regular keypad. Speed texters may not appreciate the keypad layout, either, particularly the space bar positioning, which place this key directly above the OK button - accidental pressing is a distinct possibility for straying thumbs.
The lack of a Qwerty input method may rile some users. It's not ideal, and could be tiresome using a phone pad if you're typing out regular long emails, entering email addresses, URLs and so on.
That in a way reflects some of the limitations of this compact touchscreen handset. Despite its touchscreen operation, it doesn't have smartphone functionality – it's essentially a decent mid-tier mobile with a touchscreen interface.