Samsung Tocco SGH-F480 touchscreen phone
Who calls a phone Tocco, I mean really
The TouchWiz user interface doesn't match up to the slick iPhone experience, but it is an improvement on Samsung's previous efforts. The screen feels immediately more responsive as soon as you start playing with it. There's the usual touchscreen haptic feedback, which gives you just enough vibration (and sound) to let you know buttons have been properly pressed. A 'hold' button on top allows you to lock the display to prevent accidental pressings.
The default options, lined up in a bar across the bottom of the display, include Dial, Phonebook and Menu buttons. These change as you navigate through the menu systems and applications.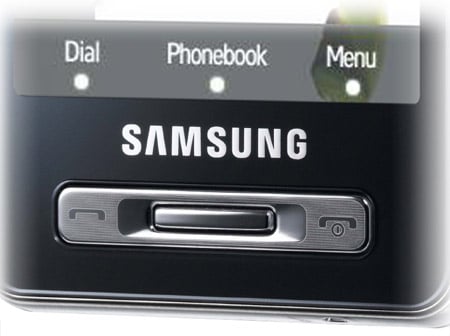 The on-screen options change as you navigate through the menu
In addition, a press of the physical button below the display pulls up five large on-screen buttons: for the music player, messages, internet, calls, and the main menu.
A toolbar can be brought up on the left of the display by tapping a small arrowed tab towards the bottom of the screen. The toolbar slips out to reveal a column of icons, representing features and applications, which you can drag and drop on to the standby screen using your fingertip. This works smoothly, with an intuitive feel to it.
However, the applications available as widgets are limited to a selection of stock features: calendar, photo viewer, music player, FM radio, profiles, games, birthday alerts, date and several clock options. You can drag into or out of the widgets toolbar any of these, plus rather neatly, remove your mobile operator logo if it's cluttering your screen. A simple tap of the arrowed tab closes the toolbar once you've finished your widget-fiddling, and your set-up is saved until you decide to change it again.
There's no facility to download or add more widget applications to the phone, which is a shame, and once you have a few widgets on the small screen it looks cluttered - but it's a neat user-friendly touch that's handy rather than essential. It will be interesting to see if Samsung develops this idea further.