Kiwi cops hunt teenage serial burglar with head of Robbie Coltrane
'Cracker' thesp posterized
"Cracker" star Robbie Coltrane has appeared on a New Zealand wanted poster.
But don't assume he's suspected of criminal behavior. New Zealand police are using a photo of the beefy British thesp to track down his greasy-haired 16-year-old Doppleganger.
The Daily Telegraph has the goods: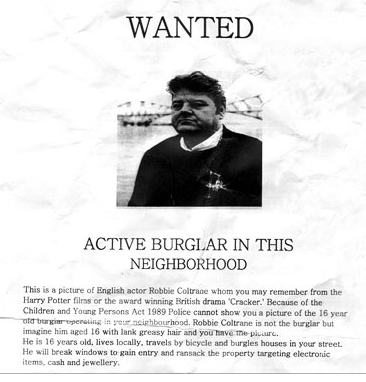 Robbie Coltrane (Not) Wanted Poster
The poster plants Coltrane's photo just above the words "Active Burglar In This Neighborhood" - which can be a tad misleading. "This is a picture of English [sic] actor Robbie Coltrane, whom you may remember from the Harry Potter films or the award winning British drama 'Cracker,'" the poster goes on to say. "Robbie Coltrane is not the burglar, but imagine him aged 16 with lank, greasy hair and you have the picture."
Apparently, New Zealand law bars police from publishing photos of juveniles, so the Kiwi cops have defaulted to the next best thing. A great idea really. The Reg is now determined to find a juvenile Kiwi burglar who looks just like Phorm CEO Kent Ertugrul. ®