ColorWare's colourful iPhone 3G
Grab yourself a multi-tone phone
Almost everyone owns an iPhone 3G now, or so it seems sometimes. So if you want to stand out from the Apple crowd, but aren't willing to give up the phone, why not have your handset custom hued?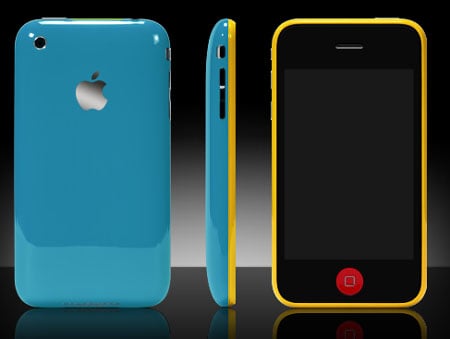 ColorWare can colour the phone's back, frame, button and SIM tray individually
Gadget painting specialist ColorWare can now paint the Jesus Phone 2.0 in virtually any colour, enabling owners to have something a little different from the black or white options offered by Apple. ColorWare has a rainbow of colours to choose from, including "Fusion" pink and orange "Crush".
It's worth noting that you can't buy the phone directly from ColorWare, so you'll have to do without it for the duration of the two-week process. ColorWare disassembles the phone so that the external case can be removed and prepared for colouring. In the meantime, the phone's innards are stored in a static guarded storage area.
The colour, which you choose online, is added to the phone's backing in a "multi-step, multi-day colour application process" and topped off with a "X2 scratch-resistant coating" that's cured with ultra-violet light.
Because using a pair of white earbuds with the freshly repainted iPhone would be just criminal, ColorWare also offers the same service for the phone's cans and dock.
Unfortunately the process, which costs from $150 (£75/€100), is currently only available in the US, but hopefully it'll be extend to Blighty soon.
Sponsored: Detecting cyber attacks as a small to medium business