Telly stand technology
Sharp and Sony create all-in-one entertainment systems
A home filled with the latest technology is good, but finding enough space for it can be tricky. Consequently Sony and Sharp have each given the humble TV cabinet a technological makeover.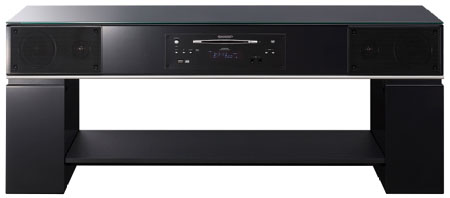 Sharp's AN-PR1500H stand
Sony's RHT-G500 and Sharp's AN-PR1500H are both, essentially, glorified TV stands that integrate all the accompanying technology, such as a DVD player, but which are more than wood and glass.
Sharp's attempt is described as a home cinema rack and comes with a fitted upscaling DVD/CD player, in addition to a 300w speaker and surround sound speakers. An HDMI output and DivX compatibility mean that the AN-PR1500H is also future proof.
An integrated USB port allows, say, a compact camera to be connected directly into the unit and displayed on the TV that'll no doubt be perched on top, but which sadly isn't included.
The AN-PR1500H is compatible with MP3 and WMA format audio files, but also has an integrated FM stereo digital tuner if your music library isn't up to scratch. Two microphone ports also mean karaoke nights are always possible.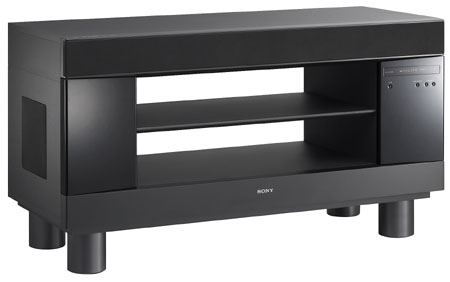 ...and Sony's rival RHT-G500 stand
Sony's RHT-G500 is designed for use with 32 to 40in TVs, of the Bravia persuasion naturally, and has a 3.1-channel sound system comprised of centre, left and right speakers.
The unit has three HDMI ports, so connecting a Blu-ray player or PlayStation 3 into system won't be problematic. Wi-Fi and Bluetooth also makes wireless connectivity possible.
Sharp's AN-PR1500H is available now in the UK for around £600 (€750/$1200). A UK release date or price for Sony's RHT-G500 hasn't been confirmed yet.