Nokia 6220 Classic candybar phone
This mild-mannered mobile is secretly...Super Phone
The music player interface is standard and functional, with tracks filed under regular category headings, and the D-pad acting as player controls. The earphones supplied with the 6220 classic are fair, and audio quality through them is reasonably good.
A 2.5mm AV jack socket means that with the help of a common 2.5mm-to-3.5mm adapter you could add a better set of headphones if you want to get the most out of the software. The loudspeaker is louder and clearer than many mobiles – though in normal mobile fashion it still manages to avoid deeper bass frequencies.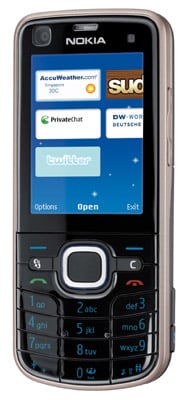 For the basics of making calls, we got a top class performance
As well as boosting video and audio download speeds, HSDPA connectivity hurries along the browsing experience. The Nokia browser is relatively speedy for a mobile – though you have the normal wait for pages to resolve - and provides a decent selection of page overview, pan and zoom options. Naturally you can switch it to full widescreen for a better view.
Support for RSS feed is included too, and Nokia has pre-loaded web-based widgets applications – its own WidSets service and Yahoo! Go – to offer a selection of alternative web info and service options. Other links for online Nokia services include Download! for finding and adding extra apps, and XpressPrint for online photo printing.
As a Nokia S60 device, you get plenty of office tools and productivity apps alongside the more glitzy headline applications. QuickOffice and Adobe PDF reader software is included for viewing standard files received as email attachments, or documents copied over to the phone.