Nokia 6220 Classic candybar phone
This mild-mannered mobile is secretly...Super Phone
The video capture option is superior to most cameraphones too, shooting at VGA size at 30 frames per second, for higher than average quality smooth mobile video. It's not camcorder quality, but not bad for a phone – and with the TV-Out cable supplied you can play back your efforts (as well as view other phone content and apps) on your TV set.
Naturally, the 6220 classic comes with music and video player functionality, with RealPlayer offering decent playback of downloaded or sideloaded video clips in full screen mode.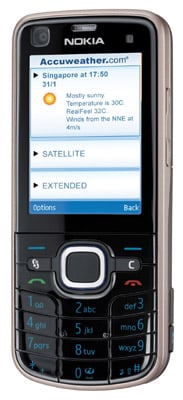 You can switch the browser to full widescreen for a better view
HSDPA high-speed 3G enables rapid downloading of music or video content over the air – though you should be conscious of possible data charges if you're getting content delivered from a site other than your mobile network and you don't have an inclusive data deal.
The 6220 classic is compatible with Nokia Music Store, and there's an application pre-installed that hooks you up to the site for browsing and buying tracks over the air. You can also find and download podcasts over the air using Nokia's Podcasting application, or try real time free music via the FM radio.
Music can be easily copied over from a PC; plug in the USB cable supplied and you can sync with Windows Media Player, or use Nokia Music Manager software (in its supplied PC Suite package) to organise tracks. Alternatively, there's the simple drag and drop method of copying tracks with the phone in mass storage mode. Wireless Bluetooth transfer is possible too.