Nokia 6220 Classic candybar phone
This mild-mannered mobile is secretly...Super Phone
We found the A-GPS system and Nokia Maps application worked very well in day-to-day use. It locked on to satellites and got our position reasonably quickly from switch-on – from under 30 seconds to a minute, though Nokia claims it could take from a few seconds to several minutes.
The A-GPS system uses an onboard GPS receiver and cellsite information to work out location quickly and accurately, and within the Maps application you can carry out local searches for places and services, or search by addresses or locations. Naturally, you can plan routes, look up directions and get mapping details and instructions onscreen.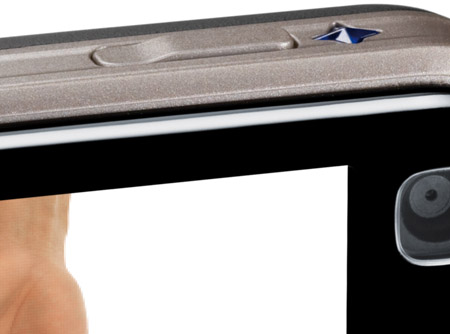 The side-key is programmable, but runs Nokia Maps by default
Nokia boxes the 6220 classic with a 1GB MicroSD card containing mapping information for the UK and Ireland. It also has an optional voice navigation add-on, to provide standard turn-by-turn sat nav voice commands, with a 90-day trial included. In-car, the phone was loud, clear and quick enough with instructions, and you can change the onscreen view between various options, including 2D, 3D, night and day modes.
You can download additional maps, and add optional extras (for a license fee) such as live traffic information, city guides, pedestrian guides, and so on. If you're looking up your position or maps outside of the countries loaded onto your phone, you can get maps automatically updated as you go along – although this will incur data charges, so could be an expensive option when roaming abroad.
Obviously, the 2.2in display isn't going to match a 4in dedicated in-car Sat Nav screen for viewing and following directions, but as a piece of GPS kit in your mobile, it worked very well.