SanDisk Sansa Clip MP3 player
Molecule-sized micro MP3 player
We could hardly overlook the thing that give the Clip its name, the...err, clip. Detachable from the player only by a fairly hefty shove the plastic spring loaded clip is a pretty effective piece of design; push down at the top and it opens, let it spring back and it shuts with a degree of force that inspires confidence in it staying wherever you put it. A raised circular ridge on the clip ensures a firm grip on t-shirts and the like.
When it comes to sound quality the Clip doesn't compete all that well with its bigger brother the Fuze. Back-to-back listening of a couple of classic Jethro Tull albums – Songs from the Wood and Heavy Horses – and Linkin Park's Minutes to Midnight showed the Clip to be competent, but unexceptional.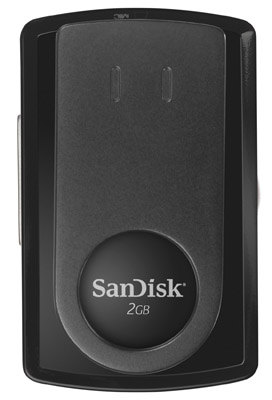 It feels a little on the plastic side, but it doesn't creak at all
With the EQ set to normal the Clip lacked the solid bass and sense of warmth that made the Fuze so pleasant on the ear. Moving the EQ setting from 'normal' to 'rock' improved matters a fair bit, highlighting just how movable a feast the sound quality on an MP3 player can be and anyway as the Fuze is one of the best sounding MP3 players we have comes across saying the Clip is not quite as good is really not major league criticism.
One thing we wish the Fuze and Clip didn't have in common is the rather crumby bundled earphones. We replaced them with our trusty Griffin TuneBuds, which are not only far more comfortable but also considerably better sounding.
Sansa claim a battery life of "up to 15 hours", the best we managed was just shy of 14 hours, which for a player of its size was reasonable enough.