DIY SSD packs in CompactFlash card pair RAID rig
Enclosure lets you make your own solid-state drive
Want to replace your system hard disk with an solid-state drive? Want to take advantage of RAID? Want to use the cheapest Flash? Thanks to Taiwan's Raidon, you can.
It's rolled out what it calls the "RAID ready SSD enclosure", and you can't get a more apt moniker than that.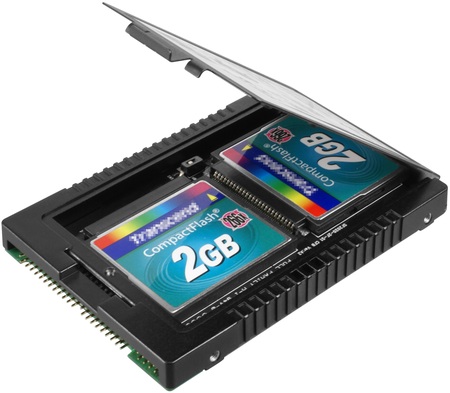 Raidon's RAID-able SSD enclosure: slip in any high-capacity CF cards
It's a box designed around the 2.5in hard drive form-factor, but lift its lid and you'll see two CompactFlash connectors inside, ready to take cards of as big a capacity as you can afford.
You can set the unit to use both cards in a RAID 1 array for data security - both drives contain identical, mirrored data - or you can tell it to treat the two CF cards as a single, combined storage space.
With the cards in place, the enclosure fits into your laptop or desktop over a parallel ATA or SATA connection.
The RAID ready SSD enclosure goes on sale in August, but there's no indication yet whether it'll make its way into Europe and the US, or how much it'll cost when it does. Raidon can be reached through its website.