iPhone 2.0 unlock tool released, tested
Handset hacked
Hands On Apple released the iPhone 3G on 11 July and nine days later, iPhone hacking crew the iPhone Dev Team posted the latest version of the their jailbreaking and unlocking utility, PwnageTool.
First, PwnageTool 2.0 won't unlock a 3G iPhone, but it will jailbreak one to allow third-party apps to be installed through an alternative channel to the one Apple provides. I didn't try PwnageTool with an iPhone 3G, but I did test it on my first-gen iPhone, which was running iPhone OS 1.1.4, unlocked using the excellent ZiPhone utility. PwnageTool 2.0 is supposed to be able to both jailbreak and unlock the 'old' handset. I also tried it out on a Mac - a Windows version is in the works, and may have even been released by now. If not, be patient - it'll come.
First, I upgraded to iTunes 7.7. PwnageTool needs it, so I let Mac OS X's Software Update download and install the new version. Once it was up and running, I connected the iPhone. I was informed that there was a new version of the handset's system software, so I told iTunes I just wanted to download it, not install the update too.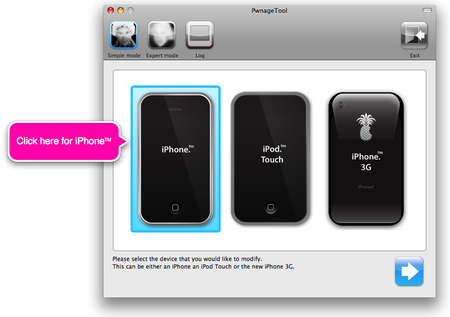 iPhone Dev Team's PwnageTool 2.0: hacking made simple
With the firmware update downloaded, I was ready to run PwnageTool. First, though, I set the iPhone into DFU mode, its 'restore my software' state. Turn off the iPhone. Press the Home button and while keeping it held down, push and hold the power key. The iPhone'll start up - when you see the Apple logo, let go of the power button. If you get it right, you'll see the iTunes icon and a picture of the dock cable. iTunes itself will tell you the iPhone needs restoring - just click OK for now.
I also download Bootloader code mentioned by a couple of posters on the iPhone Dev site. I unzipped the file - and the Zip files it contains - and put the .bin files on my desktop.
PwnageTool shows you three devices: an original iPhone, an iPod Touch and a 3G iPhone. I clicked on the former. I also stayed in Simple mode. The utility then finds your new firmware download - you'll have to tell it where the code is, if you downloaded it to a specific location - then extracts the software, patches it and saves it onto your desktop. During the process, it asks you if you've run a previous version of PwnageTool.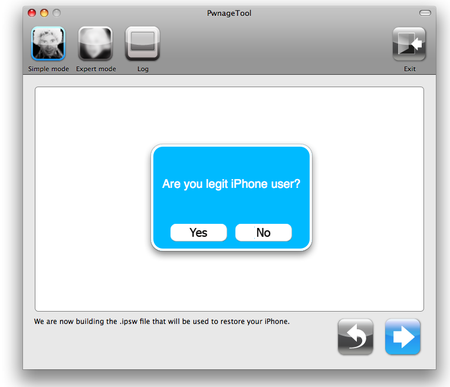 Who can say?
It also asks if you're a "legit" iPhone owner. Heaven knows what they mean by this - that your iPhone's not before been unlocked, presumably. I clicked on No, because my iPhone had been.