Panasonic's pivoted HDMI cable to end connector slippage?
HDMI may be the best technology for connecting up your HD TV, but that hasn't stopped some punters complaining that the cables slip out too easily. Panasonic now reckons it has the solution.
Some observers have suggested the companies behind HDMI design a version of the connector with locking screws of the kind found on VGA and DVI ports, but Panasonic has instead come up with a cable that pivots.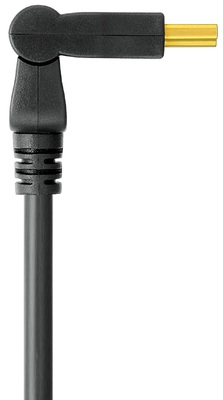 Panasonic's Full Angle HDMI Cable: pivotal breakthrough
Dubbed the Free Angle HDMI Cable, the accessory's connector can be rotated through 180°, allowing the connector to sit inside its slot while the cable hangs straight down or at whatever angle's most appropriate for a given installation.
The upshot is that the weight of the cable shouldn't serve to cause the connector to slide out. And since more solid HDMI cables require 7-9cm of space between the TV and any obstacle, the new Panasonic cable will allow screens to go right up to the wall.
Still no room? How about Belkin's wireless HDMI box?
The cable is due to go on sale in August when it will be made available in 1.5m and 3.0m lengths. It's certified for HDMI verison 1.3a, Panasonic said, allowing it to cope with 1080p HD content transferred at 10.2Gb/s.