Sony signs up contactless data transfer partners
Wireless data transfers edge closer
Widespread adoption of ways to allow data to be transferred between gadgets without them touching each other has taken a step further. Some 15 manufacturers have agreed to push Sony's TransferJet technology.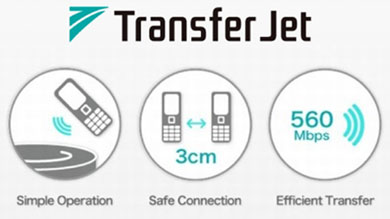 Sony's TransferJet: move data between gadgets without wires
A world without wires has long been the dream of gadget lovers, and TransferJet essentially allows data to be wirelessly transferred from one device to another, at speeds of up to 560Mb/s through the 4.48GHz band of the spectrum.
In an attempt to push the standard forward, Canon, Eastman Kodak, Hitachi, JVC, Nikon, Olympus, Panasonic, Pioneer, Samsung, Seiko Epson, Sony Ericsson and others have come together to form a consortium that will develop specifications to allow products to provide TransferJet and to ensure they're interoperable with other TransferJet devices. It'll also establish licensing schemes and administer use of the technology's logo.
The technology could, for example, allow you to move a video onto your TV from your mobile phone simply by putting the talker next to your telly, or within 30mm of it. Sony's already claimed that features to prevent "external data leakage" will be implemented into TransferJet gadgets.
Sony also previously said that, should transmission conditions deteriorate during a data transfer, TransferJet will automatically lower its data transmission rate to accommodate rather than cut out. The electronics giant has even claimed that the data transfer technology won't interference with other wireless systems.
TransferJet chips small enough to fit into a dongle have already been manufactured by Sony, but the first products featuring the technology aren't expected to appear until sometime next year.
Sponsored: Becoming a Pragmatic Security Leader