EMC adds Mozy lifesaver to Iomega drives
Armageddon foiled by back-up back-up
EMC is rolling together two of its recent acquisitions into a storage bundle that combines both local and remote data backup.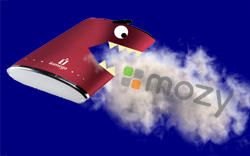 Iomega external hard drive customers can today download a software package that combines EMC Retrospect Express backup with the Mozy online backup service.
Customers who purchase an Iomega external hard drive can choose Retrospect Express and a 2GB of MozyHome online backup account for free. That can also be upgraded later to an unlimited storage account for $4.95 a month. Those who already have Iomega and Retrospect can upgrade to the latest Mozy-friendly version gratis.
Mozy integration has been worked into Retrospect Express HD 2.5 and Retrospect 7.6 for Windows — but not yet for the OS X version. EMC says separate MozyHome software is available for Iomega drives, but it's not yet been tied into Retrospect Express.
"Computer users now have a seamless backup system for local backup of every file, as well as backup to the cloud for files that warrant another copy," said Jonathan Huberman, president of EMC's consumer group. "This bundled solution provides the versatility of any time, anywhere access."
We thought anywhere access was the point of Mozy by itself but far be it from us to complain about a free hosted 2GB. At least EMC is showing that it can combine assets from different acquisitions or that it can combine things that don't need combining or something.
A brief history; EMC bought into the on-demand web application market with the purchase of Berkley Data Systems and their flagship Mozy service last October.
In April, EMC interrupted Iomega's plans to merge with a subsidiary of Great Wall Technology via a hostile takeover bid. Although EMC's advances were first spurned by Iomega's board, when the storage giant returned with a $213m cash offer — it was true love at second sight.
We've been wondering what EMC had planned to do with Iomega's technology. We're glad to see the answer is: something. Becoming a foot in the door to get customers to purchase subscription Mozy accounts is probably better than no love at all. ®