Sierra Wireless Compass 885 HSUPA 3G modem
aka the O2 Business Modem
Slot the 885 into a spare USB port, and it'll give you the opportunity to install the software you need to use it. All the code's stored on the device itself, and Sierra includes versions for Windows XP and Vista, and for Mac OS X.
Well, it's supposed to. We tried the 885 first on a Mac, and sure enough the on-board disk mounted on the machine's desktop. But it contained no installer. Note to MacBook Air owners: you'll need the bundled USB extension cable, but then you'd probably guessed that anyway...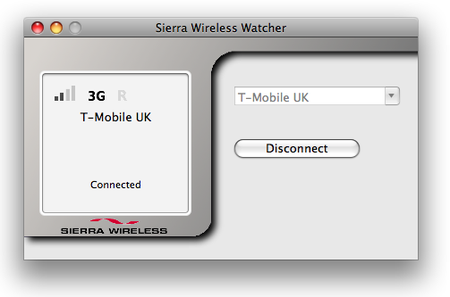 Sierra Wireless Watch on the Mac...
We had the same experience with a regular MacBook, so that's clearly something Sierra Wireless needs to look into. We checked with the company, and it assured us that shipping units do have the Mac software on board.
Mac users will still play second fiddle to Windows folk, however. Sierra Wireless Watch is the Mac version of the 3G Watcher utility provided for Windows machines. It does the basics: calls up the correct connection data for your network, allows you to connect to it and manage access profiles if you use different SIMs, but it provides far less detailed information about the connection and the SIM you're using than the Windows version does. It lacks the latter's SMS functionality too.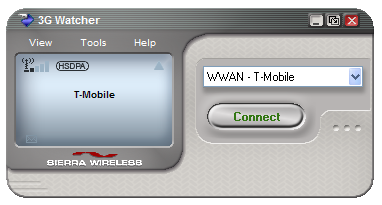 ...and 3G Watcher on Windows XP
How many 3G modem users require SMS? Most, we imagine head straight for their instant messaging client instead, but it would be nice to know the facility's there if you need it.
Sponsored: Detecting cyber attacks as a small to medium business