Sierra Wireless Compass 885 HSUPA 3G modem
aka the O2 Business Modem
First Review Britain's mobile phone networks haven't been slow to punt mobile broadband to their customers, but the arrival of simple plug-and-play USB modems has made their task easier.
The latest to arrive is Sierra Wireless' Compass 885, first offered by O2 as the Business USB Modem and now also available untied to a network. Like rivals such as Novatel Wireless' Ovation MC950D and Vodafone's Huawei-made USB Modem 7.2, the 885 looks like a large USB Flash drive.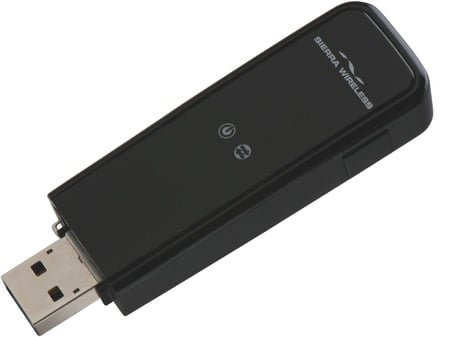 Sierra Wireless' Compass 885: well connected
Pulling the cap off the end not only reveals the USB connector but also the SIM bay and - a novel feature, this - a Micro SD card slot. On one side is a tricky-to-remove flap that hides an antenna port should you need an better pick-up. Alternatively, you can position the 885 upright in the bundled laptop-screen clip.
The top of the modem is adorned with two LEDs: one that indicates it's powered up and the other to flash in time with passing data packets. Unlike, the Ovation MC950D mentioned above, there's no indication here what kind of network you're going to be connecting to - the Novatel Wireless has a light that changes colour whether you're on a GSM, Edge, 3G, HSDPA connection or whatever.
Not that the 885 is limited in any way. It has full quad-bad GSM/GPRS/Edge support, along with tri-band UMTS/WCDMA 3G, 7.2Mb/s HSDPA for high-speed downloads and 2Mb/s HSUPA to accelerate uploads. It's firmware upgradeable to 5Mb/s HSUPA, Sierra says. All network and coverage permitting, of course.
Sponsored: How to get more from MicroStrategy by optimising your data stack