World's smallest iPod music beamer debuts
Ditching cabled headphones for a pair of wireless cans is a must, but not if you need a chunky transmitter. Brando has launched what it claims to be the world's smallest Bluetooth A2DP transmitter.
The INFINXX AP23 is compatible with the iPhone and all dockable iPods, including the Touch. Plug the transmitter into your gadget's dock connector and the A2DP unit's ready to go. It's compatible with all Bluetooth 2.0 A2DP headphones and speakers.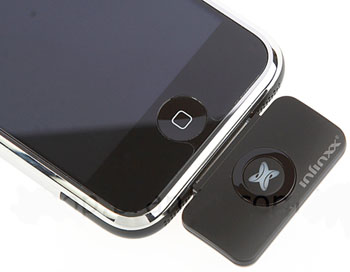 The unit's compatible with iPhones and iPods
No additional charging or batteries are required, because Brando's unit is powered by your player. Brando doesn't say how use will affect your player's battery life.
A LED on the unit indicates when it's connected to your wireless cans, and it also allows you to take calls wirelessly.
The INFINXX AP23 Bluetooth unit is available now online from Brando for $62 (£31/€45).