Motorola ROKR E8 music phone
Can it revive the fortunes of the ROKR family
Review Motorola's ROKR music mobiles hasn't exactly set the world on fire, the let-down of its E1 setting the par for the rest. With the E8 however, Motorola has approached the music mobile arena afresh.
This model introduces some new design thinking to the range, not least Motorola's own take on the current vogue for context-changing controls and an iPod-like navigation dial.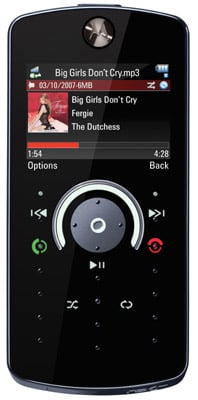 Motorola's ROKR E8: introducing the ModeShift
Music is the headline act for the E8. Its music credentials include a multi-format music player with 2GB of internal storage and a slot for MicroSD cards of up to 4GB capacity. A standard 3.5mm headphone socket is included too.
There's no 3G capability in this handset, however, so over-the-air tune downloads rely on slower speed Edge and GPRS connectivity. Wi-Fi is a no-show too.
The E8's function-swapping ModeShift controls are likely to be a major eye-catcher. Unlike some recent phones that utilise context-sensitive touchpads, such as the Samsung Soul and LG KF600, the E8's whole front panel changes look and function as you switch between phone, camera and music player.