Casio claims 'world's slimmest' camera crown
If you're considering a Casio for your next compact camera, then it'll be slim pickings. But not in a negative way, because the firm's latest snapper is supposedly the world's thinnest shooter available.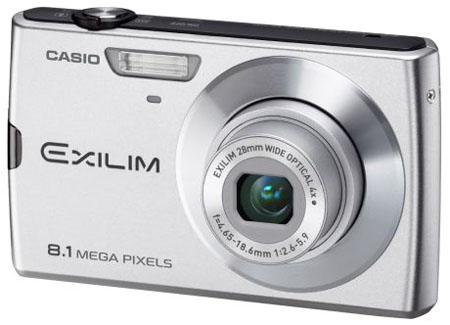 Casio's EX-Z150: the world's thinnest compact so far?
The Exilim range has always been famed for its slim casings, but the new EX-Z150 measures just 18.9mm at its thinnest point - 20.1mm at the thickest. Not very thin, you might think, and you'd be right. A glance at Casio's small print reveals that the EX-Z150 isn't the thinnest camera ever, just the thinnest compact available with both a 28mm wide-angle lens and a 4x optical zoom.
But combine this measurement with the available body colours – which include red, pink and green - and you've got yourself a suitably stylish snapper to match your skinny jeans.
The EX-Z150 isn't just about looks though, as the camera boasts up to 8.1 megapixels of image grabbing capacity. The wide-angle lens should also help capture more of your friends into a single shot. Perfectly composed pictures can then be viewed on the camera's 3in LCD.
Casio's also equipped the EX-Z150 with standard image features, including anti-shake and face detection. Smile detection isn't mentioned, but the highest ISO available is a reasonable 1600.
Movies can be shot at a resolution of up to 640 x 480 pixels, with a frame rate of up to 30f/s. Films and snaps are stored onto SDHC memory cards. Just under 18MB of built-in Flash memory's available too, which Casio claims is enough for between three and ten still shots - depending on your chosen image setting.
Users have 22 pre-set image modes to choose from and YouTube capture mode for videos, which Casio introduced last year, is also included.
An official release date or price hasn't been given yet.
Sponsored: Detecting cyber attacks as a small to medium business