Bic punts 'disposable' pre-charged phone
Cheap-as-chips phone calls
Next time the missus asks you to pick-up a Bic at the newsagents, you'd be wise to clarify what she's after. The firm's branching out from disposable razors and pens, and has launched a mobile phone.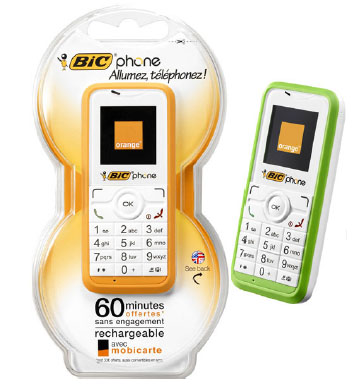 Bic's phone: available on Orange
Bic has teamed-up with Orange France to launch the Bic Phone, which comes with a ready-charged battery and an hour's free calls. The SIM card will already slotted into place, so all the user has to do is activate the phone.
Once your free time's up, Mobicarte pre-pay airtime cards can be used to keep the phone topped up. Alcatel manufactures the handset, and the device's telephone number is included in the packaging.
Don't expect too many features though, because Bic states that the phone's only designed for making calls and sending text messages. But users can choose between a "Citrus Orange" or "Lime Green" body colour.
The Bic phone will be available in France from 7 August and will cost €49 (£39/$80). A UK release date or price hasn't been given.