Nvidia GeForce GTX 280
Over-priced, over-specced and over here
In appearance, the GTX 260 and 280 are very similar, and are big double-slot cards out of the same mould as the 9800 GX2. There have been subtle changes to the construction to assist cooling and to reduce the transfer of heat from the graphics card to your motherboard and chipset but the family history of the GTX 280 is quite apparent.

Double slotter
It's worth spelling out that the GT200 chip doesn't support DirectX 10.1 even though the differences between DX 10 and 10.1 are relatively minor. If you're spending £400 on a graphics card you might be none too impressed by the idea of missing out on a gaming feature as you are unlikely to buy another graphics card in the near future.
When we tested the Zotac GTX 280 AMP!, we wanted to be sure the system didn't restrict this beast of a graphics card so we used an Intel Skulltrail motherboard with dual quad-core processors overclocked to 4GHz. We also tested a selection of graphics cards working back through the GeForce 9000, 8000, 7000 and 6000 families to put things in perspective.
We used Nvidia's Forceware 177.35 drivers for the GTX 280 - more about the drivers later.
Crysis Test Results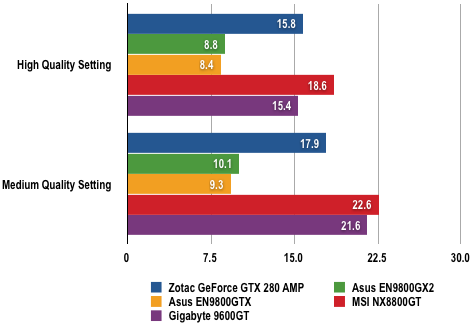 Average frame rate
Longer bars are better
You'll note that our games tests are rather brief and consist of two runs in Crysis at 1280 x 1024 with the quality settings set, respectively, on Medium and High. The run uses a saved game and is actually game play with a running gunfight as you make your way up a jungle path in bright sunlight. The average frame rate is taken with FRAPS.