Nvidia GeForce GTX 280
Over-priced, over-specced and over here
Review Nvidia has spent the past year waiting for AMD to give it a fight in the graphics sector. The G92 chip used in GeForce 8800 GT was little more than a die-shrink of the G80 that debuted in the original GeForce 8800 GTS and GTX.
The GeForce 9800 GTX used the same G92 chip and supported DirectX 10 with Shader Model 4.0 - just like the GeForce 8000 series - so it was hard to see why Nvidia felt the need to move from 8000 to 9000 numbering. More to the point, Nvidia decided to ignore Shader Model 4.1 and DirectX 10.1, which is part of Windows Vista SP1, so it really milked the G80/G92 architecture for all it was worth.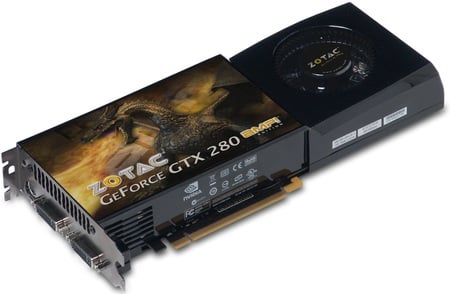 Zotac's GTX 280 AMP!: factory overclocked
Well, the time has come for a change: the launch of the new GT200 chip, which is used in this Zotac GeForce GTX 280 AMP! Edition as well as cheaper GeForce GTX 260 models. The GT200 is an awesome piece of silicon that packs in 240 Stream Processors - Nvidia's unified shaders - compared to the 128 in the G92 .
That change has raised the transistor count from 754m to 1.4bn, and as Nvidia has stuck with a 65nm fabrication process, the size of the GT200 has increased to an enormous 24mm² which is four times the size of a 65nm Intel Core 2 die.
Internally, the GT200 is divided up into ten clusters of 24 shaders and eight clusters of four ROPs with the core running at 602MHz, the Stream Processors at 1296MHz and the 1GB of GDDR 3 memory at a true speed of 1107MHz to give an effective speed of 2214MHz.